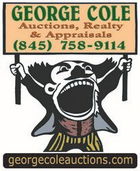 George Cole Auctions
TOP RATED
For More Info, Phone Bids, Etc... Call Us At 845.758.9114 For Automated Alerts Through LiveAuctioneers Whenever We Post A New Catalog On LiveAuctioneers make sure to "Follow Us" in Live Auctioneers. For Alerts On ALL Of Our Auction Action, Subscribe To Our Email Alerts On Our Webpage www.georgecoleauctions.com , or Like Us / Follow Us on Facebook, Instagram & Twitter. We Live Stream Our Auctions On Our Facebook Page... A Bit About Us: We specialize in Estate Liquidation, and the sale of Real Estate and Antiques. We are also experienced in selling Vehicles and Boats of all types, Farm Machinery and Equipment , Commercial Equipment Liquidation, as well as many other items too numerous to mention. With over 45 years of operation, we have established an outstanding base of both sellers and buyers. This helps to ensure a fair price for both seller and buyer. Currently the bulk of our sales include quality antique items and furnishings and Real Estate. Most of the merchandise we sell is handpicked from local estates, and sold with no-reserve.
Upcoming Auctions from George Cole Auctions
George Cole Auctions has no upcoming auctions. auctioneer to hear about new auctions.
Record Auction Results for George Cole Auctions
See All